The way to make money on kwork, which we want to share in this article, is very simple and does not require special skills, any person can handle it. It is perfect as an additional part-time job when money is urgently needed.
This method is one of the many in this niche, since this is just the beginning of the path towards your financial independence. If you want, you can easily scale it, increasing your earnings.
As you might guess, we will earn money on freelance exchange Kwork. Research earnings
This is a Freelance Marketplace that occupies a huge market share, which is ahead of similar Freelance sites in the Russian Internet in terms of popularity. Customers come here, so there will be enough customers for everyone.
Kwork differs from similar freelance exchanges in that it is more like a classic shop for the provision of Freelance services in which performers place services in a suitable category and set their own price tag on them, customers, they also choose what suits them, place an order and provide the information you need to get the job done.
You can earn on Kwork about 700, 1000, 2000 rubles for 1 service and this is not the limit. To increase the check to customers, there is also the possibility of additional services. SEO and traffic is considered the most in-demand category with a huge number of customers.
Selling links is the most popular service in the above category, so you will provide it to your customers.
To complete it, you do not need any special training or skills. You can start placing your offer in the catalog right after reading this article and take the first order.
This is a huge advantage for you as a beginner, you do not need to understand the intricacies of the workflow.
The demand for this service can be seen by going to the site in the section catalog and compare the significant number of freelancers' completed orders with the number of services they offer.
To register for the service, follow the link: kwork.ru, by clicking on the "Register" button in the upper right corner, as a seller, fill out the mail, or register through the social networks Facebook, Vkontakte to choose from. We will not consider how to register as everything is intuitive and will not cause any difficulties. And who wants to receive detailed instructions on how to earn money, write a message on the page "About the Author", the cost of which is 750 rubles.
Earning scheme
The method of earning is by reselling links that our client will order. He has no idea that there are services that provide inexpensive pipelined linking services. If the client knew, then he would order from the service directly, and we would be left with the nose.
Therefore, you will act as intermediaries who are more aware of the "simple" customers. We will take advantage of this advantage. Most freelancers on Kwork generally make huge profits for themselves.
It is not difficult to work with the service, as usual, you need to register, study in detail similar services of other freelancers, offering the best conditions, because you will provide these services to your clients on kwork.ru with the highest price. To use the service, click on the banner below: "Do you need to quickly promote your site? Order placement of 7500 perpetual links and get your target audience! Authoritative reviews from only 50 rubles.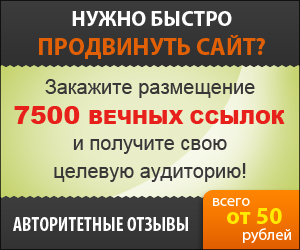 Provide services on Kwork should be done without strain, it should take no more than 30 minutes to complete, putting the work on the conveyor. Ideal – bought cheaper, sold more expensive.